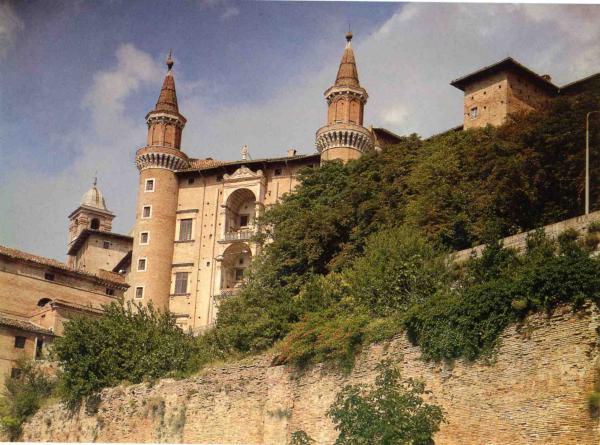 CITIES, MUSEUMS AND EXHIBITIONS
Our region is full of history and arts, which can be appreciated in nearby cities, museums and art exhibitions. Those are strongly recommended places to be visited if you have a passion for history and art domains.

Easily reachable from «Le Piagge» are the below listed locations.

JESI (about 18 km far away) - It is the city where the Holy Roman Emperor Frederick II was born in 1194. The city offer several churches, theaters and historical buildings. Main museums are: the art gallery, the religious museum and the archeological musem.
MAIOLATI SPONTINI (on the other side of our valley) – it is famous for the musician Gaspare Spontini. A specific museum is dedicated to him.
FABRIANO (about 30 km far away) is a UNESCO city for craft, arts and popular traditions. The town is particularly famous for the handcrafted paper. By visiting the museum of paper and watermark you can get a deep dive into the topic.
CAMERINO (about 58 km far away) hosts an old university, churches and historical buildings including the palace of the duke and the palace of the archibishop. Available museums are: the natural science museum, the religious museum of Giaomo Boccanera, the museum ofthe Cappuccini fraternity, the botanic Garden, the local art gallery and museum.
CASTELFIDARDO (about 30 km far away) can offeryou the museum of the the Italian indipendence (museo del Risorgimento) and the international museum of accordion.
ANCONA (about 50 km far away) is famous arbour city and offers several historical and religious types of building and monuments. Famous ones are the cathedral of Saint Ciriaco, the Lazaretto and the Roman Arch of Traiano. Main museums are: the catholic museum (museo Diocesano), the Archeological museum of Marche, the local art gallery and the tactile museum Omero. The tactile museum Omero offers temporary ehxibitions and events, aside of the experience of a museum where the art can be felt by hands.
RECANATI (about 40 km far away) is the city for people passionate about Italian literature. The poetry Giacomo Leopardi was born here and the surroundings of the city inspired some of its masterpieces.
MACERATA (about 60 km far away) is famous for its rich history. The ancient open theater «Arena Sferisterio» is place for highly emotional opera events.

For info concerning museums' availability and opening hours, we strongly reccomend you to take a look at each museum web-site. Our staff will be pleased to help you in case any support is needed.